Radically Different Social Media
Mastodon is radically different social media, back in the hands of the people. Your home feed should be filled with what matters to you most, not what a corporation thinks you should see.
We are full steam ahead on our Mastodon server and things are going great. We should have things completed on the info page in a couple of days. In the mean time you may want to read our Posting Guidelines. You may also check out our Server Status. On the status page you can click on the server or web page name to view more details.
Our Philosophy
If you take a ride down Beach Avenue in Atlantic Beach you will see several of these signs on lawns in front of houses.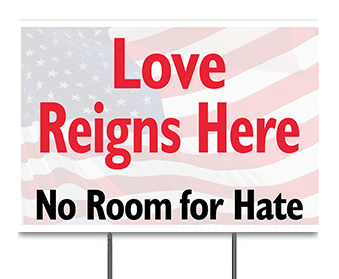 That's it, thats our philosophy. Love reigns here, no room for hate. Have fun and I'll see you on the server - @admin@jaxbeach.social